On 25th March 2022, we launched the 25th Anniversary celebration of Verbum Dei Singapore with a zoom gathering of Verbum Dei missionaries and missionary disciples. It was a night of good cheer and walking down memory lane.
We believe that memories are important as they make us be who we are, as individuals and as a community. Thus, that night, we shared memories of friendship and affection and recollections of encountering God and one another, which fuse the ties we have as one.
Below are extracts of memories from Sr. Maria Jose and Sr. Yolanda, who is presently based in Barcelona, Spain, the first two missionaries who brought the Verbum Dei charism to Singapore.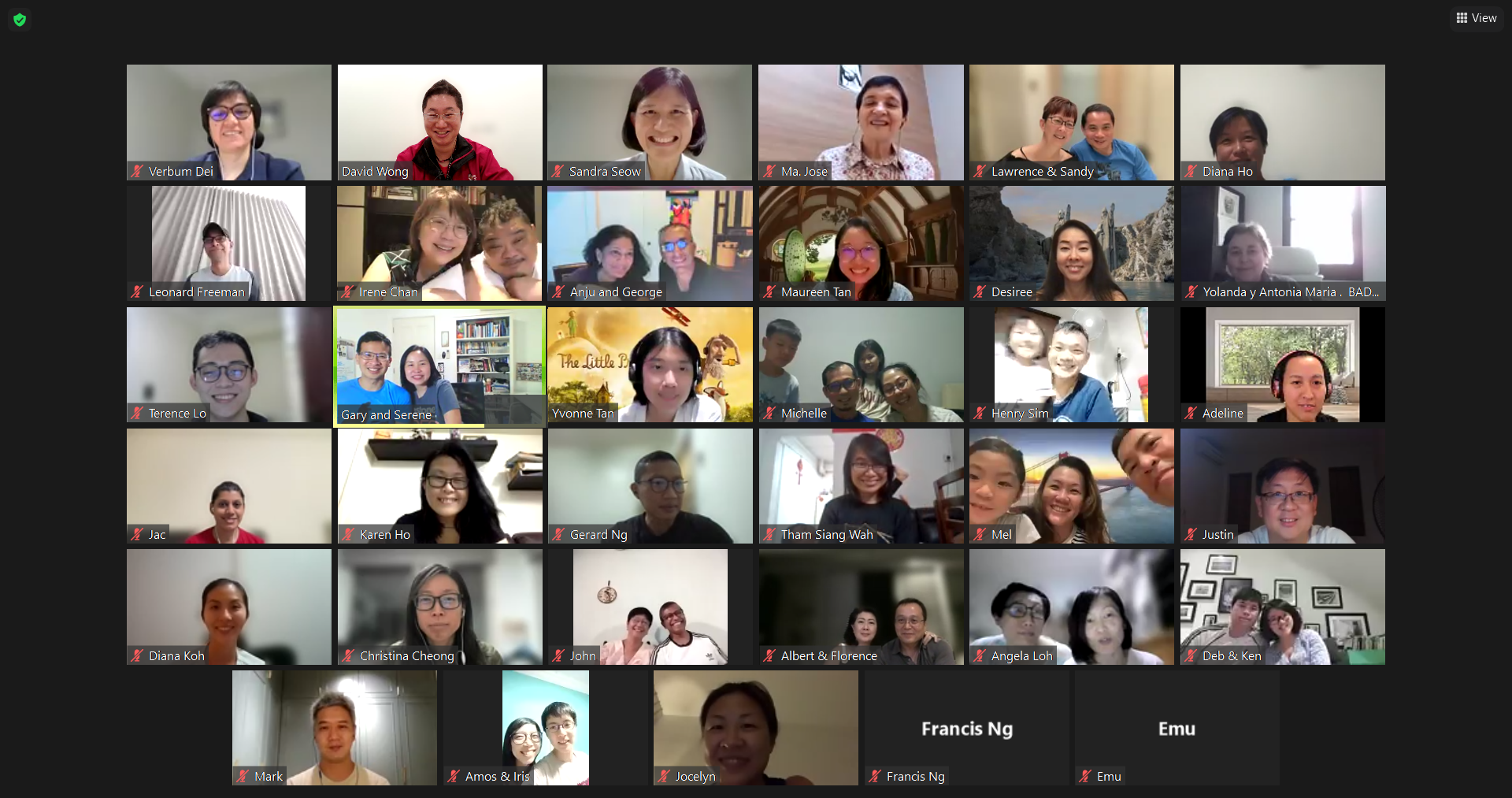 Sr. Maria Jose:
"I came to Singapore with a lot of trust in God. The first thing I had to do was to start asking for the possibility of a visa. The nuns and many people told me that it was so difficult to get a visa, get a house, and the means to support ourselves…The Holy Spirit led me to Fr. Renckens from Blessed Sacrament Church. He was the one who applied for a work permit visa for Yolanda and me. I saw the hand of God in how He opened ways and doors.
We managed to rent a 3 room flat in Clementi that cost us $400 per month for the first 6 months. I remembered that we only had enough money to pay 2 months of rent. We started living there, and the flat only had a stove but nothing else. I remembered that we found our first electric fan at the void deck of a HDB flat. It was thrown away because it was so dirty. We got it, cleaned it, and it was perfect! The chairs were old chairs that some people gave us. Our first table was from Boys' Town, and the boys had to help us carry it up to the 13th storey.
We could really see the work of God in building the community. It was a strong experience of faith and trust because we started from nothing to be where we are today. God was working by touching the lives of so many people through our prayer and preaching. It is a joy to see that from the first two disciples, Sandra and Elaine, who later became missionaries, to have now the many disciples who form the Verbum Dei Family; from renting 3 room flat to having a permanent home; from 2 ang moh missionaries to 11 local missionaries who are now located worldwide. I believe that it has been the work of God and that He will continue to act through our lives."
Sr. Yolanda:
"I am so happy to see all of you. I agree with everything that Maria Jose said because I was a witness to what she just shared.
God is such a great dreamer. I always tell God that he is a crazy dreamer with each of us. I would love to accomplish God's dream. I did not expect to go to Singapore because I was supposed to be sent to Taiwan but plans changed, and in the end, I went to Singapore. Till today, I have no regrets of being in Singapore. When I was there, I was nervous. I experienced that God understood my fears and everything, and He was inviting me to go out of myself, to get closer to the people. When I left Singapore, it was one of the hardest experiences in my life. For me, I always have the people whom I was living with in Singapore in my heart. I cannot forget anyone. God always enlarges my tent. Even though now, I am in Barcelona for many years, I still remember the people in Singapore because God is the one enlarging my heart. I am glad because if not, I would just reduce my life to my own understanding and culture, but now after I followed Jesus, my family is very big.
When I see all of you now, it is like, "Wow". It is as though you planted a seed, go back after some time, and see gardens of trees and flowers. I really want to thank each of you for your "Yes" and the "Yes" of the missionaries, Maria Jose, Sandra, and Elaine, with whom I lived. Thank you so much for these 25 years and more years to come."
The Verbum Dei missionary disciples were then invited to share a word they associated Verbum Dei community with and explain why they connected it to the community by sharing a memory or an experience.
Some of them shared the following:
Yvonne: "EXTENDED FAMILY… I knew the community when I was in Spain...I met Sr. Catalina, a Verbum Dei Missionary, who brought me back to God."
Diana: "BIBLE…The simplicity of praying with the Word."
Albert: "MIRACLES… God makes things possible even when they seem impossible."
Florence: "LOVE…Each time we come to Verbum Dei for guidelines, we learn to love as God loves."
Justin: "WELCOMING…Everyone was welcoming."
Desiree: "HOME… The missionaries were cool, chill and easy to get along with, and so it was like a second home."
Nicole: "FRIEND… In Verbum Dei, I discovered Jesus as my friend, and from there, the missionaries became my friends, and my group became my closest friends."
John Jegathesan: "COMMUNITY…When my dad passed on, the whole community came down. It touched me so much."
Irene: "THE WORD OF GOD COMING ALIVE…In Verbum Dei, I witnessed the Word of God coming alive…and that relationship with God was not a burden, and I started to build a friendship with Jesus."
Melissa: "THE COOLEST CATHOLIC KAMPONG… We had fun hanging out, and it was a sanctuary for many of us… There is always a time and place for everyone who comes."
Gary: "AUTHENTICITY… What struck me about the community is that the missionaries were genuine. They witnessed to what they spoke."
Serene: "FAMILY… I have grown not only in age but also in my spiritual life…Verbum Dei is my spiritual family...I would want to grow old with the community."
Maureen: "PERSONAL RELATIONSHIP… This charism and community show me that it is possible to have a personal and intimate relationship with God as a friend."
Michelle: "DISCOVERY and ROJAK…Verbum Dei is a place of discovery about God and self. We are so rojak. We are so different, and yet we are still the same because we have the passion of wanting to know God better and share Him through our lives."
John: "FRIENDSHIP… The community has formed the friendship with God in me, and life has never been the same again."
Sandy: "TREASURE… The Word in my life has enriched me, and I am who I am today is because of Verbum Dei…I am grateful for this treasure in my life."